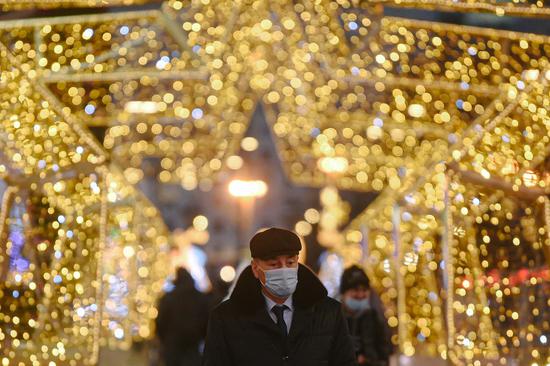 A man wearing a face mask walks on a street in Moscow, Russia, on Dec. 23, 2020. (Xinhua/Evgeny Sinitsyn)
Special: Battle Against Novel Coronavirus
Russia registered another 29,935 COVID-19 cases and 635 more deaths over the past 24 hours, the highest daily number of infections and fatalities since the start of the pandemic, the country's official COVID-19 monitoring and response center said Thursday.
The national tally of cases has grown to 2,963,688, including 53,096 deaths and 2,370,857 recoveries, according to the center.
Official figures show that Moscow, the country's worst-hit region, reported 8,203 new cases over the past day, bringing the city's total count to 764,789.
So far, over 87.5 million COVID-19 tests have been conducted across the country.
Russia's public health watchdog Rospotrebnadzor said Tuesday that a total of 1,424 COVID-19 mutations had been detected in the country, but none of them were linked to the highly infectious new strain recently reported in Britain.